Our Mission is to help kids develop their full potential supported by chess. Other than todays techologcial impact we aim teach them focus and strategic thinking combined with fun and action.

Chess4kids was founded in 2010 by Bea Johner. Her son was diagnosed with ADHD and she was looking for an alternative to classic treatment like Ritalin to support his development.
So she started with the first branch in Zollikon and step by step a new interactive and fun methodology was developed for Kids 4 years up. Younger children need a special kind of motivation, instruction, and encouragement which we offer through play and sensory stimulation. We give the children a playful access that allows to encounter new perspectives and sharpens the perception in the position play. In our highly technological time we want to support and foster the children in their perceptibility by an integral approach and stimulation of all senses.
Playful Approach
The children are mentored individually to succeed their challenging tasks and gain confidence in their personal capabilities. Our group sizes are small in order to allow the teachers the time to focus on each individual child. Children are ready to learn chess as of the age of 4 years old.
The children then progress at their own pace and they do this by being able to compete with other children who are at the same level as they are. The children become self-motivated through their own successes and in turn are able to build up their self-confidence and self-esteem. In our classroom your child will experience the ability to take risks, make commitments and enjoy their achievements in a safe and fun environment.
Our course facilities have several experiential areas reaching from living chess to training stations.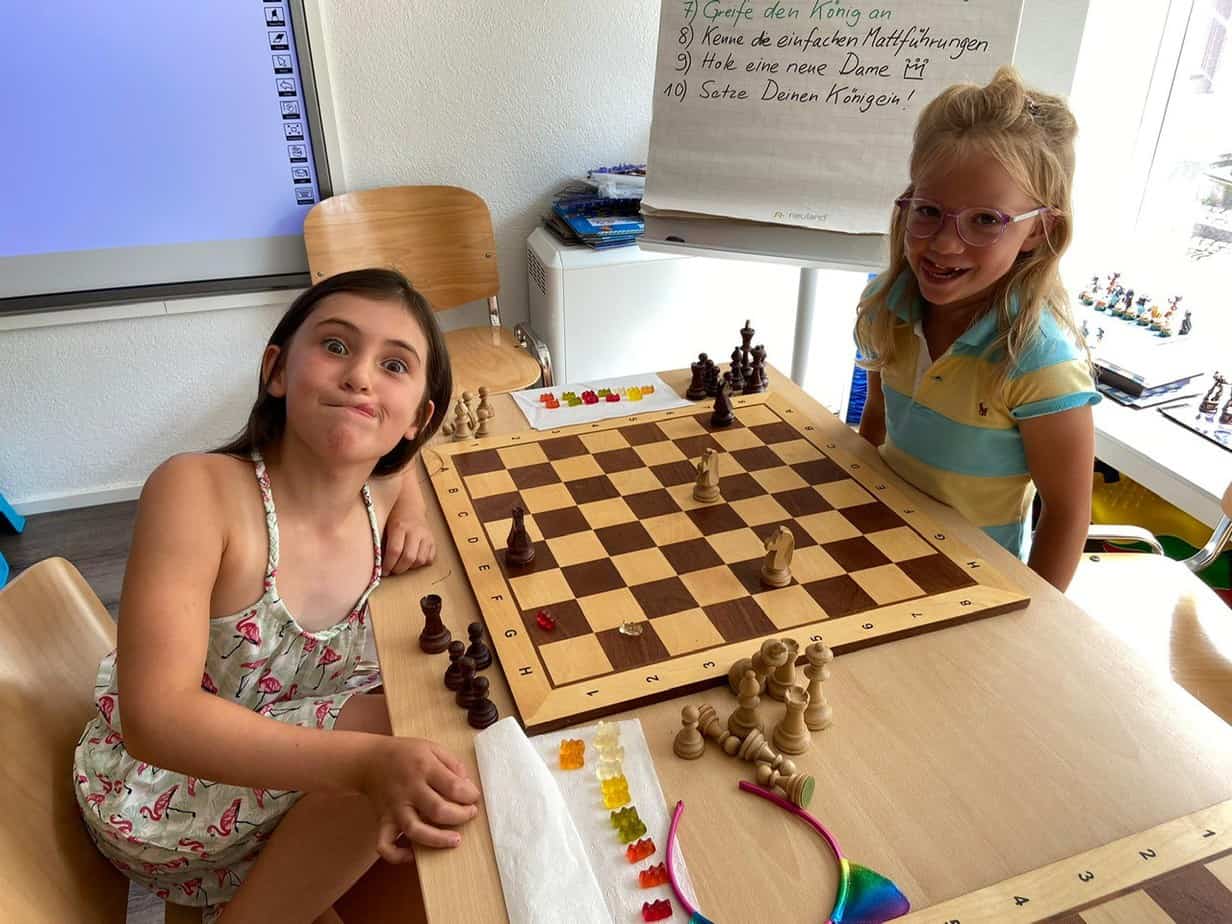 Our guidelines
Respect
Playing Chess, the kids need to respect their opponent. The first thing before they play a chess game is the hand shake. And after the game – never mind if lost or won – the kids treat each other with respect.
Responsibility
Chess teaches responsability. It is the only game that has no luck factor. The result of a game is due to strategy, tactics and concentration. If the oppoent won, it is important for the child to take responsability for his moves that led to the result.
Honesty
At Chess4kids, we dont tolerate cheating. Along with respect, we teach the kids how to handle win and loss with a good character. The kids honestly express their feelings, but in a respectful way.
Kindness
Kindness is the emotion to help people, to wish people good. The chess player trains for combat but from a perspective of kindness. Aware that victory is attained through inner piece and harmony.