Our exciting Body & Mind Vacation Camps
Chess4kids offers exciting half and full day vacation camps for children 5 years up. All camps are for beginner and advanced chess players. We work very interactively with lots of fun. Please check our early bird discounts on the camp flyers!
Free trial lessons are always possible!
Summer Holiday Camp 2023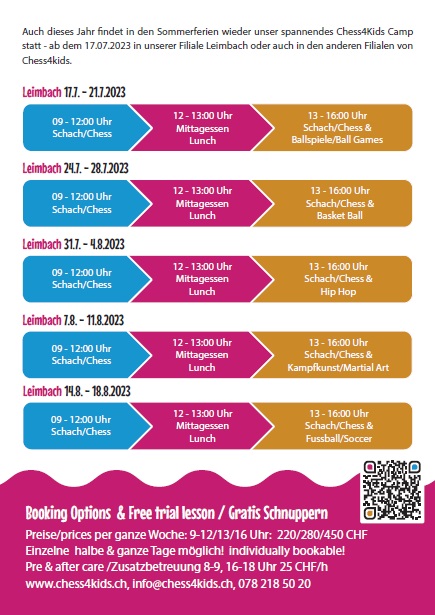 Sport Holiday Camp 2023
During this year's summer holidays, our exciting and interactive Chess4Kids holiday camps will start again - from July 17th, 2023 in our branches in Baar, Baden, Horgen, Oerlikon/Seebach, Küsnacht and Leimbach!
Download Flyer
Once again this year, our exciting and interactive holiday camps will take place during the winter holidays at 6 course locations.
Program:
9-12:00: Chess
12-13:00: Lunch time
13-16:00: An exciting action program with chess, martial arts, Lego robotics, slackline action, hip hop, soccer and ball games.
Prices per week:
9-12/13/16:00: 225/280/450 CHF
individually bookable, half and full days possible!
Pre & after care 8-9, 16-18:00 25 CHF/h
Quick inquiry
Would you like to find out more about our academy or take advantage of our offer of a free trial lesson? Then just send us a non-binding request. We'll come back to you as soon as possible.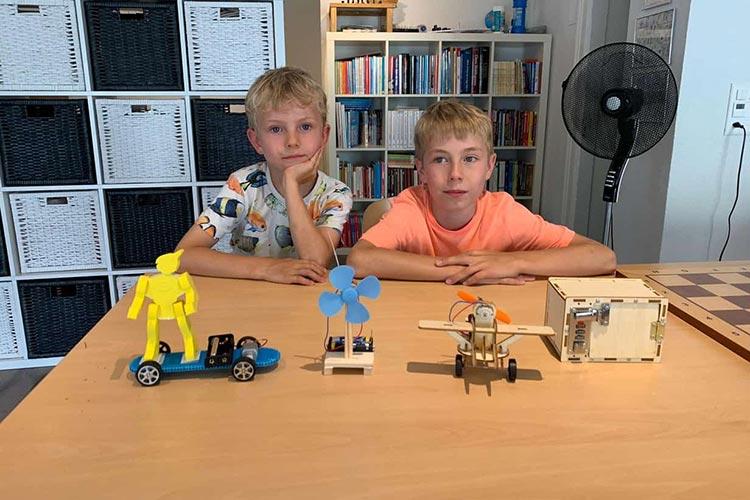 Half day vacation camps
The half day camps for beginner and advanced players are chess only from 9-12 am. Children who already know the basic rules can also sign up for afternoons half-day from 1 to 4 p.m. and participate in the combined program of hip hop, soccer, martial arts, etc.(see camp flyer), and chess (though in the afternoon the emphasis is on practising chess rather than on teaching).
The costs for a half day camp is 220 CHF per week incl. training, material, snacks/drinks, Monday through Friday. Optionally the kids can join us for lunch hour between 12am and 1pm. The costs for a half day camp incl. lunch is 280 CHF.

We offer a lot of flexibility. Kids who want to join only selected days and lunch hours in our camp weeks, the fees are 50 CHF per half day and/or 15 CHF per lunch hour.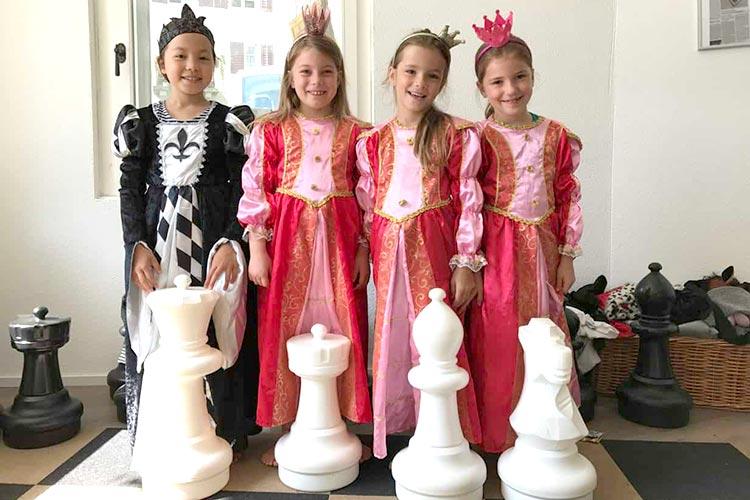 Full day vacation camps
Our whole day camps from 9am-4pm offer chess lessons for beginner and advanced plus a fun and interactive offer like magic art, martial art, dance,art, soccer or music. In the morning there is chess lessons, in the afternoon after lunch the kids attend the extra program related to the weekly program (soccer, art, martial art etc.) and afterwards go back to play chess.

The costs for a whole day camp is 450 CHF per week incl. training, material, lunch/snacks/drinks, You can also book only selected days for 100 CHF/per day.
All camps are for beginners and advanced. Come beforehand for a free trial lesson!

There are often last minute spots available.
Photo Gallery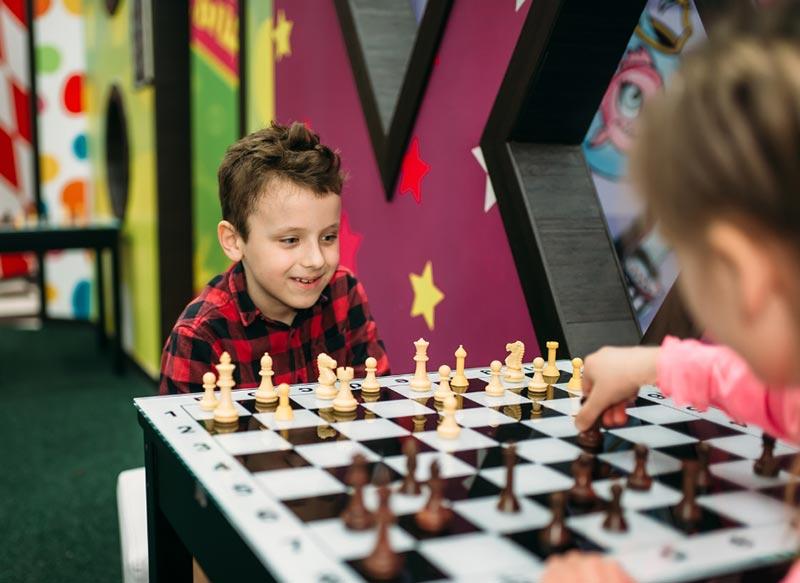 Children in the vacation camp play chess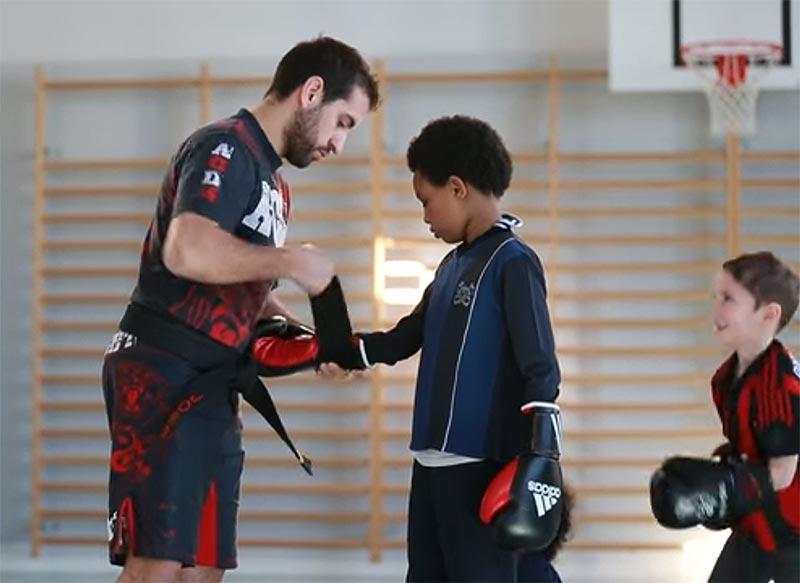 Martial arts training in the holiday camp
2 girls at the interactive chess screen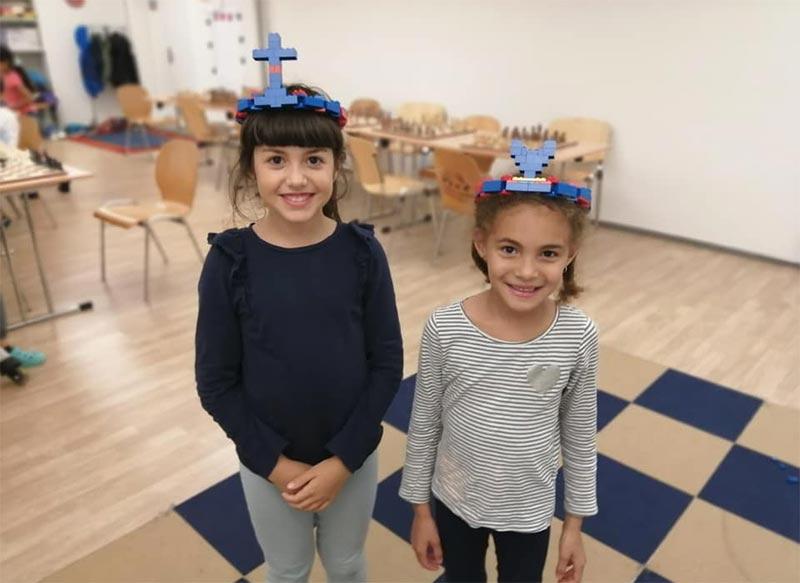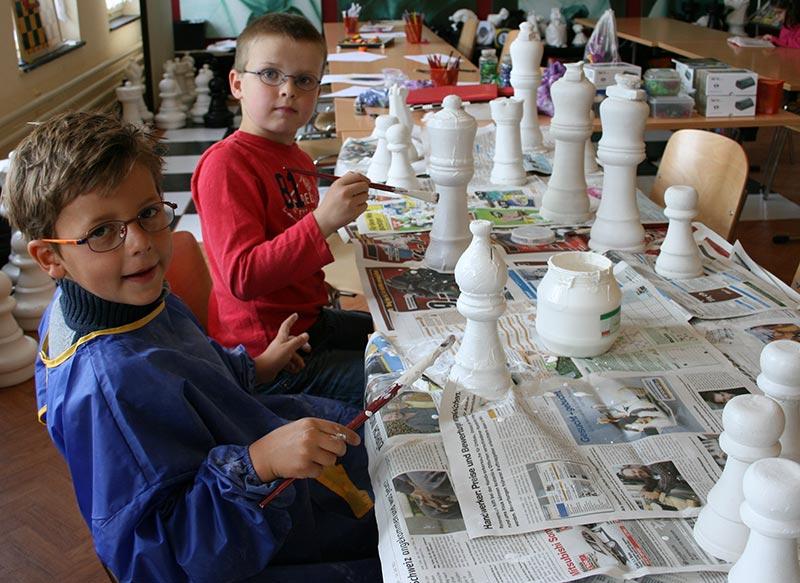 Model chess figures from clay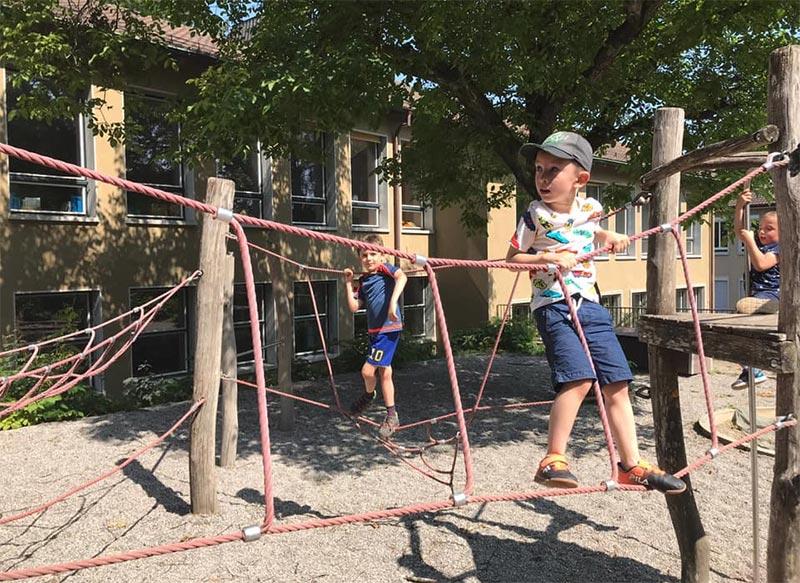 Sport is on the agenda in the afternoon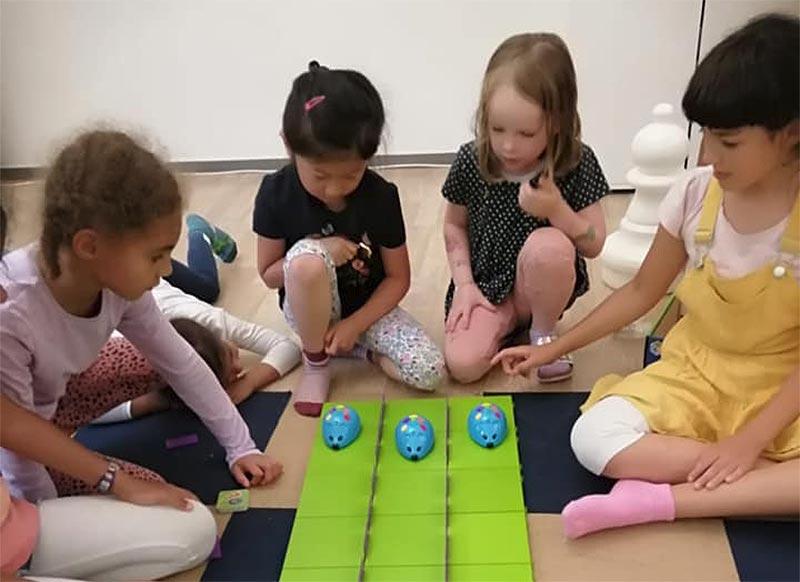 Children play mouse races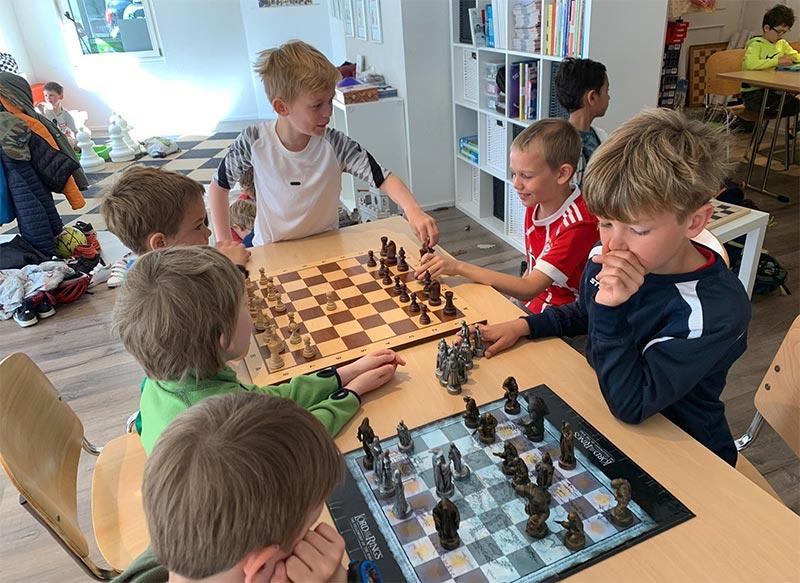 Group of children at the chess tournament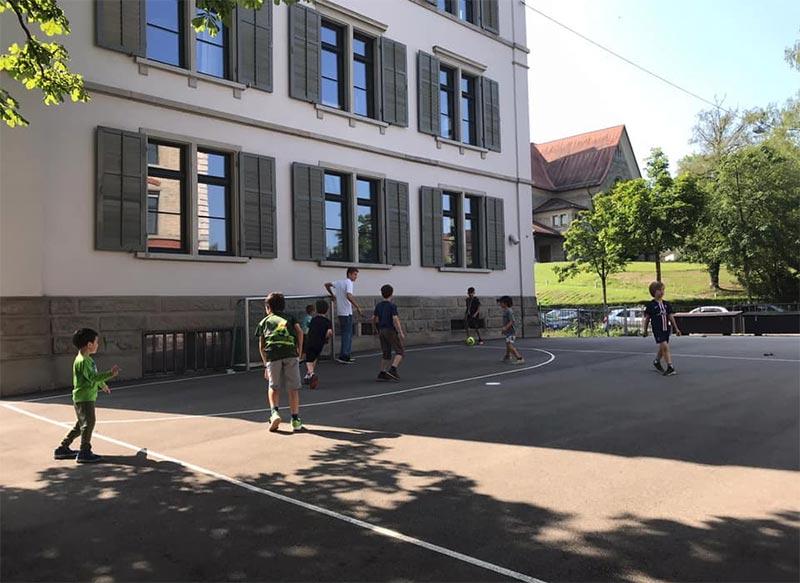 Children play soccer on the sports field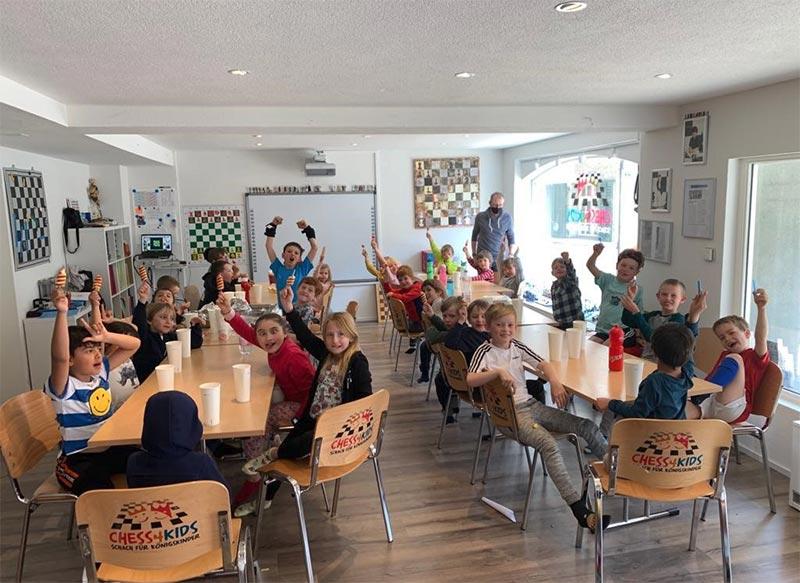 Chess training lesson for children in the Chess4Kids holiday camp
4 girls are playing a game of chess
Early and late care
Optionally you can book early care from 8am or late care until 5 or 6pm for 25 CHF per child per hour individually for each day. Half hour is also bookable.

Logoff time Fee

Up to 22 days before the start: CHF 100 processing fee
15 to 21 days before the start: 50 % of the course fee
From 14 days: 100 % of the course fee

In case of later cancellation or withdrawal after the course has started, 100% of the course fees are due. Insurance is the participants own responsibility. We reserve the right to exclude children from the class that fail to comply with rules despite repeated warnings without refund.