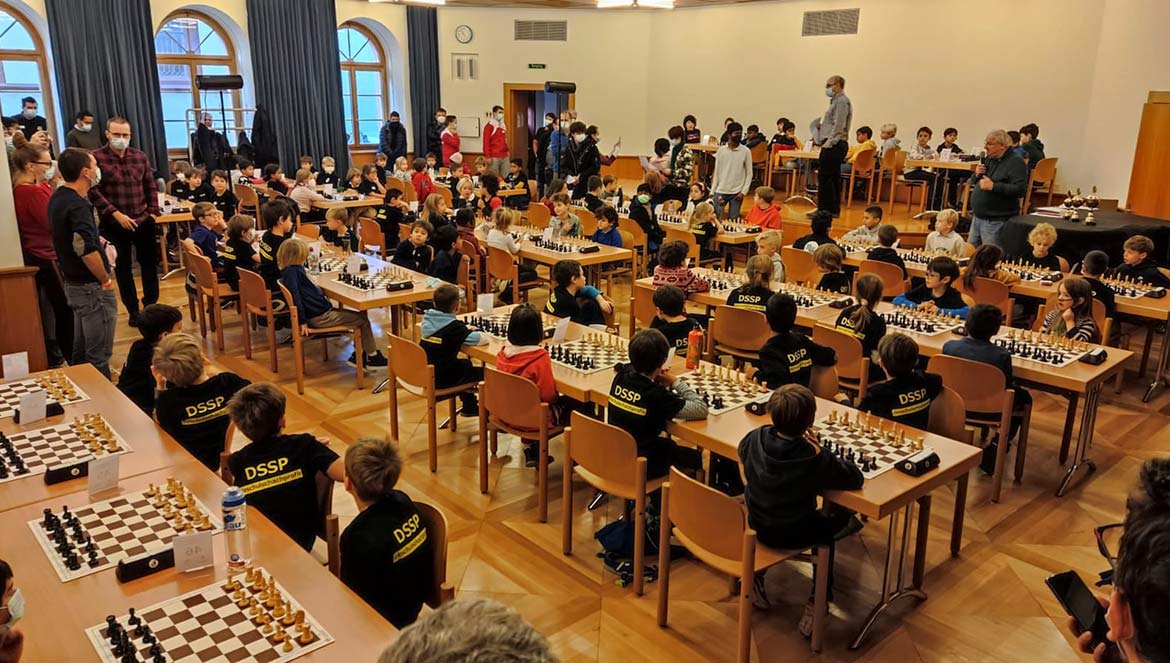 Leon Krokowski-Bednarz is Swiss rapid chess champion U8
On Sunday, the Swiss Chess Federation invited 100 players born in 2013 and younger to the Swiss U8 rapid chess championship in Riehen.
David Bazavan (Chess4Kids) is currently the strongest U8 player in Switzerland, ELO-wise. Leon Krokowski-Bednarz (also Chess4Kids) was number three. Both started the tournament with a win. Unfortunately, David had to admit defeat to his opponent in the second round. He was able to win the rest of the games and thus secure third place. His club colleague Leon scored and scored.
In the sixth round there was then a duel with the Swiss U8 champion, Marco Wilhelm (SK Cham). In an exciting game, Leon was able to impressively demonstrate his chess skills and win the game. Now he met Avyukt Aravind (Chess Academy) in the last round. The played each other in the league the day before. Here Avyukt was able to defeat Leon in 60 moves. In the final it looked bad at first. Avyukt was able to win a piece and take the lead, but then Leon fought his way back. With a check on the back row, he forced his opponent to move the queen in between;
Leon could turn the game around and win it. With 7 wins out of 7 points, he is the Swiss U8 rapid chess champion. His training colleague Leon Schneitter was able to fight for 5 points and secure 11th place. All three are participants in the new Chess4Pros concept with the trainers Grandmaster Zigurds Lanka (Latvia) and Timo Schönhof. Through the weekly performance training, monthly online training, seminars and tournament support, the talents are led to the top in Switzerland.