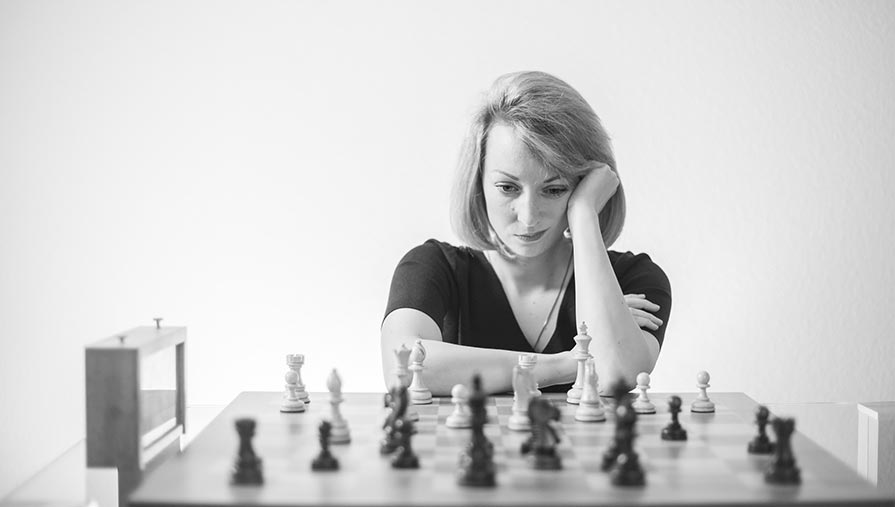 Simultaneous event with WGM Elisabeth Pähtz on February 5th. at Chess4Kids Küsnacht
On Saturday, February 5th, 2022, the German women's No. 1 and former U20 and U18 world champion Elisabeth Pähtz will come to Küsnacht for a simultaneous event
Youngsters up to the age of 16 are entitled to participate in this event, jointly organized by Chess4Kids and the Swiss Chess Federation (SSB), to which the 2G rules apply. Participation is free. Registrations must be sent by February 3 to either by e-mail to This email address is being protected from spambots. You need JavaScript enabled to view it. or using the form below (when registering by e-mail, please give first name, surname, address and - if available - SSB code). The order of registration is decisive for participation.
The simultaneous event takes place at 2 p.m. in the Reformierten Kirchgemeindehaus at Untere Heslibachstrasse 2 in Küsnacht and is played on a maximum of 30 boards. If you want to get a place, you should register quickly.
The 37-year-old Elisabeth Pähtz, who has the women's grandmaster and men's IM title, is the most successful German chess player. In 2002 she became U18 world champion, three years later she also won World Cup gold in the U20 category. In 2018 she became European champion in rapid chess and vice-European champion in blitz chess. In 2019 she won bronze at the European Women's Championship.
At the FIDE Women's Grand Swiss last October / November in Riga, Elisabeth Pähtz became the first German woman to achieve her third standard for the title of men's grandmaster. Whether she will be awarded the GM title, however, is still open, because there is a question mark behind her second norm at the EC 2016.
In 1999 it made for a YouTube hit. With the help of Elisabeth Pähtz, who whispered the moves in his ear, the German comedian Hape Kerkeling posed as an Iranian chess player with extremely bad manners and played simultaneously against the chess club of FC Bayern Munich.


Note on the mask requirement and the current Covid regulations: 2G (recovered or vaccinated) applies to participants aged 16 and over. Participants under the age of sixteen only have to wear a mask.
Subscription form